Overseas Business
Taiwan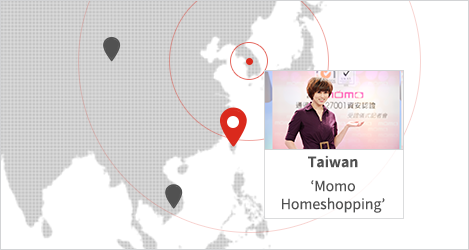 Momo Homeshopping, the number one homeshopping channel in Taiwan
(Launched in January 2005)
In 2004, Lotte Homeshopping established 'momo.com Inc.' (Fubon Multimedia Technology) in partnership with Fubon Group, the largest financial holding company in Taiwan. Momo.com Inc. made its first entry into the global market with 'momo homeshopping' in January, 2005. Momo Homeshopping currently broadcasts to 5.2 million houses 24 hours a day all over Taiwan and is actively opening markets in Southeast Asian countries with diversified selling channels through 'momoshop'.
Momo Homeshopping is the number one TV homeshopping company in Taiwan, and Lotte Homeshopping has been supporting small and medium-sized Korean companies by introducing their products to Momo Homeshopping through this home shopping network.
Global Business Partners
We are looking for partners who wish to extend their business globally.
How to propose

We actively support overseas markets in connection with Lotte International by sharing overseas consumer market trends and guides and by pursuing sponsorship programs with government institutes including Large & Small Business Cooperation Foundation, KITA, etc.
Proposal and application method

How to propose: Submit product information (attach image)/contact number (phone number and email)

Submit to: Jeon Seung Ik (sichun@lotte.net), Business Development Team