Ethical Management
Activities
Lotte Homeshopping operates a variety of ethical management programs, trying to
become a home shopping company trusted by customers and partners.
2014 Ethics Charter
All members of employees participated in making an ethics charter under the idea that all success begins from a sense of ethics.
Fair Trade Compliance
Lotte Homeshopping operates a Fair Trade Compliance Program to observe the laws related
to fair trade for the establishment of order of trade through fair and free competition.
1

Fair Trade Compliance Resolution

One. We understand the autonomous execution of fair trade and consumer protection is our competition, and we set it as one of the top indices of company management.
Two. We take the lead to create a fair competitive environment and protect consumers, and we do not commit any fraudulent acts or unfair acts against customers.
Three. We reinforce supervision and surveillance system to observe laws by appointing a manager for Fair Trade Act compliance.
Four. We continuously carry out education for executives and employees so that they can observe the Fair Trade Act on their own.
Five. We shall prevent reoccurrence of legal violations by imposing sanctions in case the Fair Trade Act is violated.

2

Core Elements

1. Expression of will to comply by the management
2. Appointment and operation of compliance manager (head of Fair Trade Department)
3. Preparation and distribution of compliance manual
4. Operation of educational programs
5. Establishment of a monitoring system
6. Restrictions on executives and employees who violate laws related to fair trade
7. Establishment of a document management system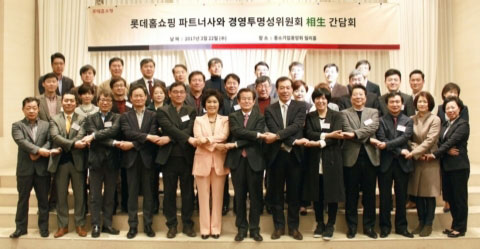 Transparency Commission

The Transparency Commission (Chairman Kang Chul-kyu, former Chairman of Fair Trade Commission) was formed in October 2014, and it establishes transparent and righteous management, corrects unfair trade practices, and reviews fairness of product launches, compliance, and leaving through external specialists.
Transparency Commission Secretariat

The Transparency Commission operates a secretariat to solve disputes between Lotte Homeshopping and customers or partner companies fairly and objectively. We help customers and partners to exercise their due rights related to Lotte Homeshopping.
Inquiry
Tel

02)2168-5066

Fax

02)761-1540

Email arb@lotte.net
Address 7F, KBIZ, 30, Eunhaeng-ro, Yeongdeungpo-gu, Seoul, Korea (Yeouido-dong)
Integrity Agreement

It is Lotte Homeshopping's rule to avoid any unfair acts that may hinder fairness of trade for new launches, broadcasts, purchases, and fulfillment of service contracts. Employees and partners of Lotte Homeshopping make a promise to uphold their integrity by signing the "Integrity Agreement Fulfillment Pledge" (twice a year).

Clean Management Activity Costs

We provide extra costs each month for activities that can be exposed to the risk of corruption and irregularities. Lotte Homeshopping covers all costs occurring from businesses with partners such as meals, drinks, etc.

Sample Management Rules

All samples for product sales and validation tests must be returned in principle, and they can be purchased when returns are delayed or unavailable.

Collaboration Costs Handling Rules

Lotte Homeshopping bears all the costs required for businesses such as consultations and meetings with partners, domestic and overseas trips, and meals.
Product Selection Process
Lotte Homeshopping operates a variety of ethical management programs, trying to become a home shopping company trusted by customers and partners.

Step1

Registration of launching proposal

Step2

Online application

Step3

Evaluation of product by MD (online)

Step4

Evaluation of product by team leader (online)

Step5

Evaluation of product by MD (meeting interview)

Step6

Product Evaluation Committee

Step7

Broadcasting
Online registration/evaluation

The first evaluation is based on objective standards without any face-to-face contact.

Sending opinions of MD and team leader

Improve unclear evaluation standards and occurrence of delayed evaluation

Meeting with new candidates (meeting interview)

Provide opportunities for a comprehensive understanding

Product Evaluation Committee

Securing objectivity and transparency through internal and external evaluations including Transparency Commission, MD, PD, show host, support department, etc.
Broadcasting Management Process
We avoid subjectivity and arrange the broadcasting schedule based on clear criteria.
Business Plan
Business Plan
Schedule strategy team
Collect product management plans for optimal broadcast schedule
Prearrangement of Monthly Schedule
Weekly Schedule
Weekly Schedule
Sales (MD)
Schedule strategy team
Schedule strategy team
Collect weekly products
Analyze productivity
Arrange weekly schedule
Check sales portfolio about 3-4 months before/
Perform a simulation that reflects current trends
Select highly efficient products based on last three performance analyses/
Objectively arrange schedule based on efficiency