The Ultimate Shopping Service
Omni-channel
Lotte Homeshopping is advancing as an omni-channel service medium that breaks the boundary between online and offline so that customers can purchase the products they want anytime, anywhere.
Baro TV, an exclusive mobile app for TV homeshopping, is an omni-channel that connects online and offline. Providing both an easy shopping environment and interactive communication with customers, it is more than just a mobile shopping channel.
Customers can watch TV home shopping live and complete all the shopping process—from ordering to payment— at once. We are leading communication with all customers by allowing them to communicate with show hosts and the program director live through "Baro TV Talk", which is displayed on the TV screen in real-time.
Detailed information about Baro TV
Paju
Lotte Homeshopping operates the offline "Lotte Homeshopping" in Seoul Station Outlets and Icheon/Paju Lotte Premium Outlets. Customers can visit the store and experience home shopping products and brands sold through TV, online, and mobile for themselves.
Lotte Homeshopping's exclusive fashion brands as well as clothing, miscellaneous goods, and lingerie by its representative brands are displayed. It is also a space for communicating with customers and purchasing goods through showcases, bazaars, and broadcasting demonstrations.
Studio Shops are operated as multi-shops where customers can experience, purchase, and receive convenient service all in one place.
Service Infrastructure
Lotte Homeshopping strives for customer satisfaction through a customer-first system and service.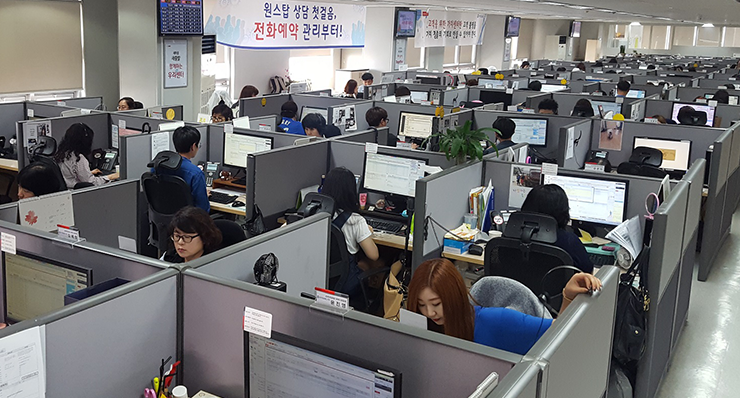 In 2013, Lotte Homeshopping upgraded its old call center to the "Smart Contact Center" to provide smart service for easy and convenient use.
Smart Contact Centers are currently being operated in Busan, Daegu, and Seoul, and professional consultants are taking orders, complaints, and inquiries from customers for their convenience. It successfully shortened the call waiting time from 54 seconds to 19 seconds, providing prompt and efficient counseling service through a system that can handle customer complaints and outstanding cases.
Detailed information about Smart Contact Center
Jangji Logistics Center (7,000㎡)

Gunpo Logistics Center (35,000㎡)

Icheon Logistics Center (2,150㎡)
Lotte Homeshopping operates 3 logistics centers in Jangji, Gunpo, and Icheon. Their combined size is a total area of 43,000 ㎡. We provide the best logistics service through a logistics information management system and facility automation, and we improve quality by thoroughly inspecting returned products and understanding detailed reasons for returns.
The Gunpo Logistics Center (35,000㎡ in area) stores and releases 1.2 million items each month and plays in an important role in satisfying customers by ensuring timely delivery. We also offer spaces for partner companies who have difficulty securing their own logistics center for stock management, product packing, etc.
Detailed information about Logistics Center
Convenience Store Refund Service
We have been offering a refund service at affiliate convenience stores including 7-Eleven since 2014 to minimize the inconvenience of customers who are unable to get refunds for goods during the day. Customers can request a convenience store refund service from Lotte Homeshopping online, mobile, and Smart Contact Center, and visit the nearest 7-Eleven to write an invoice with the receipt number. Over 1,000 refunds are requested each month, and this number is continuously increasing.
On-spot Hotline
We created a gathering space called "On-spot Hotline" via SNS to share delay of delivery, price error, etc. pointed out by customers in real-time. If a person in charge posts the issue via SNS, then the relevant department immediately suggests a solution.